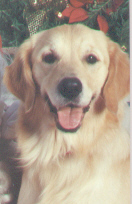 Goldcap Vegas Dreams CD (Sammi). Sammi, also known as "Fuzzy Chicken", is a Golden Retriever. She was born on February 21, 1992 in Ladysmith, British Columbia. She has her Companion Dog (CD) obedience title, and has one leg towards her CDX (Companion Dog Excellent). She has also participated in conformation, tracking, field work, flyball and agility.










Kyon's Pride and Joy (Montana). Montana is also a Golden Retriever. He was born on April 23, 1995 in Shelburne, Ontario. He doesn't have any titles yet, but is almost ready for his CD title.





For more info on my retrievers, click below!
Check out some of my favorite links!
This page has been visited
times!

Sammi & Montana
goldenretriever@cheerful.com
Peachland, British Columbia
Canada